Quarantined at home? Let us help you! Easy resources to make your home stay more pleasant!
Topics Listed in Order Below:
Easter
Healthy Kids 
Family Worship 
Stories
Crafts
Games
Cooking
Virtual Field Trips
Sabbath
Parenting Articles
Vacation Bible School
---
Easter...
19 Free Easter Scripts... Easy Impromptu Skits to help you reflect on the amazing death, burial and resurrection of Jesus - Fun for Primary, Junior & Earliteen age appropriate
19_easter_scripts_and_821_scripture_graphics_package_2019.zip
Empty Tomb Rolls... 
Eight Simple and beautiful object lessons for family worship during the Easter season... https://www.mediafire.com/file/xpgahj2k4aovsul/8_Days_of_Holy_Week_Devotions_for_Families.docx/file
Jesus Colors Our Lives!... Beautiful Craft of Cross and rainbow colors streaming from it. https://www.supplyme.com/products/jesus-colors-our-lives-spring-bulletin-board-a1673
The Empty Tomb... Depiction of Jesus' empty tomb and cross...   https://www.childmin.org/nad-craft-corner/2016/4/12/empty-tomb-craftcornernad
Sharpie Mug... Simple craft customizing a mug with permanent markers and baking in the oven...Write a scripture about the Easter weekend such as Matthew 28:6 "He isn't here! He has risen from the dead, just as he said would happen. Decorate the edges with designs.  https://www.childmin.org/nad-craft-corner/2016/4/12/sharpie-mug-craft
John 3:16 Coloring Page... https://www.pinterest.com/pin/253186810275759378/
Coloring Pages, Maze, Crafts to celebrate Jesus' triumphal entry into Jerusalem... https://stpatricksday2016images.wordpress.com/tag/palm-sunday-for-kids/
The Last Supper Coloring Page...  
Jesus on the Cross Coloring Page... 
https://finerfem.wordpress.com/2019/03/31/little-crosses-rev-daniel-considine-s-j-3/14225354_1045410815578907_61737377367754929_n-2/
Empty Tomb with surprised women Coloring Page... 
https://i.pinimg.com/originals/c4/ab/98/c4ab986c06a3d92d505165d723851a3b.jpg
---
Healthy Kids...
Booklets to explain the Coronavirus to Kids...
https://www.easterseals.com/michigan/shared-components/document-library/coronavirus-downloadable-book.pdf
https://www.flipsnack.com/EastersealsCi/my-clean-hands-story/full-view.html?fbclid=IwAR1cPQvi9Swcn5qzeldHTB24M9P27VzBu-XIpb2lMAV8pdF8WTCpfq-83cc
Five Finger Prayer for these times...
---
Family Worship...
Interactive Bible Stories for Pre-K to 2nd Grade...
Storytime with Pastor Brad Rea - Entertaining stories from the Bible and real life from New South Wales Australia...  
Family Worship Kits from the Center for Youth Evangelism (CYE)
(https://mcusercontent.com/f5819f1eeb0913738ce9b30c3/files/13773982-e22c-4839-b014-400c3b245596/Lessons_From_Jesus.02.pdf?fbclid=IwAR23gRiEqLChZeLC0G9NJ3ErNmG-CBfe0S-UCw6_HHZ7PoixIkYKEitiXw4. )
https://www.adventistas.org/es/ninos/blog/
College View Seventh-day Adventist Church Facebook Live: 
10:00 am Monday through Saturday...30 Minute Daily Worship Experience for Kids...Songs, Stories, Puppets, Crafts...
---
Stories...FREE Online stories for your kiddos!
Your Story Hour is offering a FREE AUDIO STORY EVERY DAY! Here's the link…
https://www.yourstoryhour.org/?gclid=Cj0KCQjwjcfzBRCHARIsAO-1_Oq2ErRpETbor5qXzchzh-e1TxgWBONI5ahY6v1k4mEHy72PNhSav0waAmDsEALw_wcB
Listen to Loony Coon be read every day by Your Story Hour people, Uncle Jon, Aunt Nikki and Aunt Carole! 
Here's a raccoon coloring page to color as you listen! https://www.yourstoryhour.org/kids-corner/read-a-book
Lots of animated Bible videos from the Bible Project… 
https://bibleproject.com/all-videos/?fbclid=IwAR3iXsDNktqnZcALNsUUy-Bx8kNs9cbMChEjMu7o6a5WGooYjy44ZkMvSPw
The Chosen...Videos of the gospels... 
The Chosen: Episode 2 - Shabbat 
The Chosen: Episode 3 - Jesus and the Children (If you only watch one episode, watch this one with your children.)
The Chosen: Episode 4 - The Rock on Which it is Built 
Discovery Mountain... A Christian Audio Drama for Kids
Pathfinder Camporee...
Watch the exciting and inspiring evening performances from the past two Pathfinder Camporees! https://www.youtube.com/channel/UCEpaK8GLkH2beVbXq8KEIjw/featured
---
Crafts... Feeling creative? Let us help you! Fun crafts to do to make staying at home more pleasant!
Let's Stay in and Make Some DIY Candles Together!
15 Amazing Projects Kids Will Love to Make!
Papercraft Ideas...
Cute & Clever Cards...Why not make one to encourage someone?!
Moving Fish...
Why not tell the story of the fish with money in its mouth using this as a prop? Or, the story of the 5 loaves and two fishes?
Pringles Can Houses...
Toilet Paper Roll Miniature Houses...
Paper Flower Bush...
Tissue Paper Butterflies...
Awesomely fun things for kids to make with stuff you already have at home!
https://littlebinsforlittlehands.com/indoor-activities-for-kids-at-home/?fbclid=IwAR0dXHa_6g6ZmRJ_EfBldThNwhsQhaioY6lokCrWjU5Z5-CtJRarLLlaw0c
---
Games...
Indoor games and activities for kids…  https://www.hellowonderful.co/post/easy-indoor-activities-for-kids/?fbclid=IwAR13w06VBZfezw1D6Sxb9vgMjkNP6-UhtubYsYsuSpXGv37S1uf66-g6y_Y
Games and things for kids to make... https://www.youtube.com/channel/UCpDdSCJZa8BVlmg3TFy4aBQ/videos
---
Cooking...
Ladybug Apple Treats... 
https://www.allrecipes.com/video/9635/apple-ladybug-treats/?internalSource=picture_play&referringId=29926&referringContentType=Recipe
Bird's Nest Breakfast Cups Recipe... (Substitute Morningstar Breakfast Strips for Bacon) https://www.allrecipes.com/recipe/231488/birds-nest-breakfast-cups/
Playgroup Granola Bars... 
https://www.allrecipes.com/recipe/81298/playgroup-granola-bars/?internalSource=streams&referringId=17204&referringContentType=Recipe%20Hub&clickId=st_recipes_mades
Soft Pretzels...No boiling necessary... 
Kids Club for Jesus offers stories, nature features, cooking, devotionals…  https://kidsclubforjesus.org/index.html?fbclid=IwAR1p7PP30NCocP_89v-Q3Pdapmt7HvCxKZLSllpC2ZndHWzbN55EqbuxxZ4
---
Stuck inside, but want to go somewhere? Take a Virtual Field Trip!
Thirty Virtual Field Trips for Kids! https://docs.google.com/document/d/1SvIdgTx9djKO6SjyvPDsoGlkgE3iExmi3qh2KRRku_w/preview?fbclid=IwAR0M6O2dnuWwJXTntig0nWeWRF89k0cUKu5bZpuFQ92a5JXY4yorpbkdQoI
Amazon Rainforest...
Join Rich Aguilera as he answers your science questions in fun ways from the Bible's standpoint.  https://www.youtube.com/watch?feature=youtu.be&v=jJq_U0-k-RM
Exploring the Arctic for Kids: Arctic Animals and Climates for Children
Exploring the Coral Reef: Learn About Oceans for Kids
---
Sabbath at home? Here are some ideas to help you...
Readers Theater Kids' Scripts on a Variety of Bible Themes...Primary, Junior, Earliteen ages...http://www.foolsforchrist.net/genesis.html
Painting Prayer Promises...
Take a white crayon and write your favorite prayer promises on pieces of white paper. Let your kids enjoy watching the scripture show up as they paint over the crayon with watercolor paints! You can take a larger piece of colored construction paper and make a border to frame your scripture artwork!
GraceLink Primary Sabbath School Class for March 4, 2020 by Rich Aguilera... 
Lessons and Resources for the GraceLink Sabbath School Program... https://www.juniorpowerpoints.org/page2447
Free downloadable activity sheet to go with the April 4 Primary Sabbath School video by Rich Aguilara... Just copy and paste the following link into your browser...
https://content.web-repository.com/s/67616565271914712/uploads/Free_Stuff/SS_Primary_Apr_4-5926231.PDF
Great little short video podcasts to watch that tell the Bible lesson for the Kindergarten age…3-4 years https://www.gracelink.net/kindergarten or for Primary age…5-9 years https://www.gracelink.net/primary
Lessons and Resources for Real Time Faith Earliteen Program... https://www.realtimefaith.net/page2566
Our Little Friend, Primary Treasure & Guide Magazine Special Features!
In addition to their regularly hosted games and stories, Primarytreasure.com will have the PDF of the weekly periodical for readers ages 6–9 and a PDF of Our Little Friend, the Adventist magazine for children birth to 5 years old.
Primarily for readers ages 10–14, Guidemagazine.org is offering the PDF of the weekly magazine, plus printable games, and vlogs by the editors and columnists such as Rich Aguilera, the "Mud Guy."
CREATION PRAYER STATION FOR THE WHOLE FAMILY...
Set up these 7 Creation Prayer Stations for a meaningful and interactive experience with prayer the whole family will enjoy.
HINT: Some of your older children may enjoy helping to set up the prayer stations for the family...
Station 1: Day One - Light
Prepare a darkened room. Have some throw pillows and cushions scattered on the floor. Place five different items around the room. Put blindfolds on each child before they enter the space. Then ask them, "What can you see?" The children will likely respond that they can see only darkness.
RESPONSE ACTIVITY
Now take off the blindfolds. Say, "The first thing God created was light. What are the five things that you see around this space? These things were there when you were blindfolded, but you couldn't see them without the light!"
Jesus said He is the Light of the world, a Light that would help people to see God. By reflecting Jesus, we may be able to shed light and help others to see God. As Jesus said: "You are the light of the world." (Matthew 15:14) Do you want to help others to see God? Help your child light a candle if they need help. In pairs, pray that you will be the light of the world to help others see Jesus. Then leave the candle on the table and move to the next station.
Station 2: Day 2 - Sky
Prepare the room with balloons, clouds, and an electrical fan blowing "wind." Ahead of time, prepare some pieces of paper with fold lines that will help the children fold the paper into a boat shape. They will write their dreams for the future on this paper before folding it.
RESPONSE ACTIVITY
After He made the light, God made the sky. He did it so that we could have air to breathe. Take a deep breath. Breathe the air in through your nose and out through your mouth. Do it twice more. Can you feel your lungs filling and emptying? The air is one of those things that God created that is essential for life. Let's talk about dreams. What dreams do you have for the future? What do you think you will do with your life, when you get to be an adult? Write your dreams down on a piece of paper. (Help your preschoolers who need help with writing by writing for them as they tell you their dreams.) Then fold the paper into a boat shape. God loves you and has wonderful things in store for you. He will "steer" your boat of dreams along the waters of life. You can entrust your dreams to God. Pray to God about your dreams.
Station 3: Day 3 - Dry Land & Plants
Decorate the station with a variety of plants, fruit and vegetables. Put up pictures showing how the earth has areas of land and areas of water (aerial photos of the earth are good for this). Prepare some grapes (or other fruit) and cubes of bread for the children to eat. 
RESPONSE ACTIVITY
On the third day, God separated the water and the dry land and created the wonderful variety of plants we enjoy. Do you know the name of a tree, or a flower? And what about the names of some fruit and vegetables? Can you think of the names of some healthy seeds? Plants make the world beautiful and provide for our nutritional needs. Trees are not only beautiful to look at and shady to sit under, but they also provide food, clothes, and shelter. Plants even help to keep clean the air that we breathe! Eat a piece of bread and a few grapes, and while you are eating them, thank God for all these things. In front of you there is a plant that needs to be watered in order to grow. Pour a little water on the soil around the plant. Think about how God takes care of you just like you have taken care of the plant.
Station 4: Day 4 - Sun, Moon, & Stars
Decorate the space by hanging up a sun, moon, and stars. Have a pile of sand on a table or in a shallow tray. Place a page-a-month calendar (a birthday calendar) somewhere in the space in which the children can write their birthdays. 
RESPONSE ACTIVITY
Pick up a grain of sand. Hold it in the palm of your hand. See how small it is? Have you ever gazed at the stars in the night sky? They seem so far away! And on some nights, we see so many of them that we feel so small in our very small world - as small as this grain of sand. The universe in which we find ourselves is huge. There are millions and millions of stars, planets, and moons. Despite this, God knows everything about you. You are very special to Him and He loves you so much. Isn't that amazing? When is your birthday? Write your birthday in the calendar. Remember, you're pare of this world and so you are very special in God's eyes. He has a special plan for you! Pray silently by yourself and thank God for making you special to Him.
Station 5: Day 5 - Birds & Fish
Decorate the room with pictures of birds and fish, as well as real fish in a fish tank or bowl, if possible. Put up a few pictures of polluted oceans or streams, showing how this impacts the birds and fish. Prepare an ocean-themed poster entitled "I Pledge to Protect the Oceans". Have pens available which the children will use to sign their names on the poster. Have a bowl of stones available. 
RESPONSE ACTIVITY
On the fifth day, God began to populate the earth, filling the seas with fish, dolphins, whales and other sea creatures. He also created birds that fly in the sky. Fish and birds are wonderful, but unfortunately, instead of taking care of them, we humans have endangered them by polluting the environment in which they live. Many species today are endangered! We must work harder to protect and keep the world that God has created. Do you want to help? If you want to pledge to protect our oceans, sign your name on the "I Pledge to Protect the Oceans" poster. Add a stone to the pile that you see in front of you. It is a way of saying that you want to be a good friend at home, at school, and in your neighborhood. Pray in twos or threes asking God to help you care for His earth and all the creatures. 
Station 6: Day 6 - Animals & Man
Decorate the space with pictures of a variety of animals, as well as a variety of people - young, old, male, female, different races and nationalities. Provide a lump of clay for each child.
RESPONSE ACTIVITY
On day 6 God created the animals. What is your favorite animal? Do you have a dog, or a cat, or maybe a stuffed toy animal? After God created the animals, He made the most beautiful thing: people. He made humans in His image, so that they resembled Him. Look at the pictures of these people. They are so different from one another. On the outside, we may look different from each other, but we were all created and loved by God. We are all special in His eyes. Do you see this clay? Model the clay to make a human shape that looks like you. Place it on the table and see the shapes that others, like you, have made. Thank God He made you the way you are. Ask Him to help you love others and to understand how special they are in God's eyes. Leave your clay shape on the table so that other visitors to the station can see it. 
Station 7: Day 7 - REST
Decorate the room with comfortable pillows and soft lighting. Have peaceful gospel music playing in the background. Provide a stack of paper and pencils for the children to use to draw a picture. 
RESPONSE ACTIVITY
When God finished creating everything, He looked at what He had made and saw that it was very good! Then God rested on the seventh day. Get a pillow and get comfortable. As you rest, think about the things you have seen and done today. What impressed you the most? What have you learned about God during your journey today? Stay here for a while and speak with God about what you have done today. If you would like to, draw a picture or write a message on one of the sheets of paper that is provided. Then leave it there. We will put it in the big book that you will see as you leave the prayer stations area.
Prerecorded Sabbath School Classes for all Children's Classes at Pioneer Memorial Church. Downloadable lessons and Mission Stories. 
https://pmchurch.org/sabbathschool
Sabbath School for kids from Southeastern California Conference... 
https://seccyouth.com/tools/covid-19
Resources for Growing Together Sabbath School Curriculum...
https://growingtogetherchurch.org/
Fun interactive sermon note page to use while listening to an online sermon together as a family. 
https://static1.squarespace.com/static/565f0e69e4b062a4a30ab626/t/5e67db3b1c8f17497762f56e/1583864635631/Sermon+Notes+Flyer.pdf
Videos based on the Beginners Bible for kids 6 and under...
Lots of animated Bible videos from the Bible Project… 
https://bibleproject.com/all-videos/?fbclid=IwAR3iXsDNktqnZcALNsUUy-Bx8kNs9cbMChEjMu7o6a5WGooYjy44ZkMvSPw
Join Rich Aguilera as he answers your science questions in fun ways from the Bible's standpoint.
https://www.youtube.com/watch?feature=youtu.be&v=jJq_U0-k-RM
Lots of Sabbath Ideas… 
http://www.sabbathideas.org/p/home.html
Animal Antics...Family Fun Activity...
"Take a lesson from the ants, you lazybones! Learn from their ways and become wise!" Proverbs 6:6
Animal Experts...
Assign each person in your family one or more of the following jobs:
Choose an Animal.
Find it in Scripture.
Research 5-8 Fun Facts.
Draw / Paint a picture of it in its habitat.
Find a video about it on YouTube.
Create a game about this animal.
Design a craft around this animal.
What spiritual lessons can you learn from this animal?
Mealtimes...
Want to turn it into something extra special? Use these placemats as a springboard to great family discussions!
https://ted.adventist.org/images/Family/Be-Kind-placemat.jpg https://ted.adventist.org/images/Family/Be-Generous-placemat.jpg https://ted.adventist.org/images/Family/Be-Thankful-placemat.jpg https://ted.adventist.org/images/Family/Lost-and-Found-placemat.jpg                                                   
---
Parenting Articles...
6 Biblical Reasons Why You Need to Teach Your Children Boundaries
It's often said that we teach others how to treat us. We teach others how to treat us through the way we treat ourselves and through the type of treatment we accept from others. This is as true for adults as it is for children.
As parents (or other caregivers), it's our job to teach our kids to treat others well by teaching them about boundaries, including such lessons as how to speak to people politely, why it's important to keep your hands to yourself, and why you shouldn't take what isn't yours.
In addition to instructing our kids on how to respect others, it's also a parent's job to teach kids how to assert their own boundaries so that others know how to respect our kids, too.
Scripture tells us that Our Father, like any parent, wants His children to have a bright, hopeful future and live peacefully with one another (Jeremiah 29:11 ESV). To help us achieve that, God gave us the Bible as a "roadmap on relationships" to follow and impart to our children.
Here are 6 Biblical reasons why it's important to teach your children to have healthy boundaries.
1. Boundaries Teach Children to Be Responsible
Scripture says that each person is to carry his own load or, in other words, take charge of his own responsibilities (Galatians 6:5). For children, these responsibilities vary by age.
The littlest ones may only be responsible for listening to Mom and Dad, and not hitting or throwing—all early lessons in respect (boundaries with others) and self-control (boundaries with self). As children grow, so do their responsibilities to include such things as getting themselves ready for school, doing their homework without reminders, and keeping their rooms and other areas of the home clean.
Accomplishing these daily tasks is essential for children to establish their own identity and role in the household apart from their parents. Further, giving children age-appropriate tasks gives kids the opportunity to learn how to do things on their own, i.e., practice carrying their own load.
This lesson in independence and responsibility will become crucial as children move on to college, enter into adult relationships, and join the workforce.
2. Neglected Boundaries Teach Children Consequences
The Bible warns us that, sooner or later, we all reap what we sow (Galatians 6:7). Children who don't meet their responsibilities or who expect others to complete their tasks for them eventually feel the consequences of their negligent behavior.
A child who doesn't do her homework risks getting low grades and missing an opportunity to learn; a child who pushes his chores onto others risks losing privileges at home and having loved ones develop resentment for him.
It's important for parents to let children experience the consequences of dodging their responsibilities. Teaching kids to carry their own weight or suffer the consequences doesn't make parents the "bad guys" or "overly strict."
Rather, it shows that parents understand that giving kids age-appropriate responsibilities in the present bolsters the chances of those kids practicing positive life habits in the future.
3. Boundaries Help Keep Children Healthy
Scripture declares that our body is a temple within which the Holy Spirit resides, so everything we eat, drink, and do should be for the glory of God (1 Corinthians 6:19; 1 Corinthians 10:31).
Every adult knows that the state of our physical health impacts our outlook and self-esteem. Despite this truth, practicing the boundary of self-control is one of the toughest things for adults to do, let alone children!
Left to her own devices, what child wouldn't spend most of the day eating cookies and chips and binge-watching TV? Parents wind up feeling ignored when they remind kids about the benefits of healthy eating, face-to-face conversations, and sufficient sleep.
When this frustration sets in, the Gospels help parents explain the importance of self-control in terms that even a child can understand: God loves us down to the very hair on our head and wants us to keep our bodies healthy today so that we can have a happy future tomorrow (Luke 12:7; 1 Corinthians 6:19; Jeremiah 29:11).
4. Boundaries Help Keep Children Safe
The Bible is clear in its warning: "Bad company ruins good morals" (1 Corinthians 15:33).
Children lack the emotional maturity and life experience to see the "red flags" that identify certain people as "bad company." Because of this, parents have to instruct children on what specific behavior is and is not acceptable.
Moreover, parents should encourage children to be unafraid to assert these boundaries as a sort of "personal property line" that mustn't be crossed.
There's no question that a child's immediate physical and emotional safety is a parent's top priority. To keep children safe, parents can set down rules (i.e. boundaries) to keep "bad company" at bay. For example, depending on the child's age, parents can:
 - Insist on meeting the person(s) your child is spending time with;
 - Check social media accounts and cell phone messages;
 - Discuss internet safety frequently;
 - Link family cell phones with a location and alert app to monitor your child's whereabouts;
 - Encourage kids to say "no" and stick to that "no" when they feel uncomfortable or scared;
 - Enforce curfews; and
 - Not allow little ones to answer the door or the telephone.
5. Boundaries Teach Children to Respect Themselves
Each of us is a child of God, "fearfully and wonderfully made" (Psalm 139:14). In teaching children to honor all of God's creations, parents need to emphasize to children that this includes honoring themselves.
How a child views and acts towards himself is vital not only because it reflects the child's self-worth, but it also tells others how they can treat the child as well. Therefore, if your child tends to put himself down, this may well signal to others that they can mistreat your kid too because he'll tolerate or even expect the demeaning treatment.
If your child exhibits a pattern of undervaluing herself, it's never too late to encourage her to have higher self-esteem. Start by reminding her that she is made in the image of the Most High God (Genesis 1:27). Then, ask your child what she wants for herself, what she thinks God and her family want for her, and how that compares with the way she treats herself and allows others to treat her.
Any concerning responses can be addressed through improved boundaries with herself and/or others.   
6. Boundaries Teach Children to Respect Others, Wisely
When it comes to teaching kids how to interact with others, even children know the Golden Rule: "Do to others as you would have them do to you" (Luke 6:31). This high bar is intended to be a lifelong endeavor given our human nature toward selfishness and envy.
Luckily, Scripture guides parents on how to teach children to respect others, and also on how to teach kids to exercise sound judgment when faced with people who behave in ways that the Bible forbids.
The Bible reminds parents to teach children to respect the boundaries of others by acting humbly and considerately, and by acknowledging the authority of their elders such as parents, teachers, and coaches (Romans 12:10; 1 Peter 5:5).
As much as God wants us to teach our children to honor others, He also wants our kids to steer clear of people who might pull them away from Him. This means that raising children to have healthy boundaries includes working with them on how to spot and avoid the bad influences in this world.
Specifically, parents should discourage their children from befriending people who do such things as:
 - Profane the Bible (Matthew 7:6);
 - Are prone to wrath (Proverbs 22:24);
 - Are sexually immoral (1 Corinthians 6:18);
 - Lie, cheat, or engage in substance abuse (1 Corinthians 5:11); or
 - Give foolish advice (Proverbs 14:7).
When we teach our children to have healthy boundaries, we arm them with a better sense of judgment as they go out into the world and face different people and situations. This good judgment helps our kids have more peaceful relationships with themselves and with those around them.
A child at peace has the skill set to, in turn, grow into an adult at peace, spreading this sense of harmony to others, as God intended (Proverbs 22:6).
---
Dolores Smyth writes on faith and families. Her work has appeared in numerous print and online publications. You can read more of her work on Twitter @LolaWordSmyth. 
---
5 SIMPLE TIPS FOR TAMING TANTRUMS
I came across this quote from author L.R. Knost not long ago and it has become my mantra for calming meltdowns, tantrums and anything in between.
"When little people are overwhelmed by big emotions, it is our job to share our calm not join their chaos."
Tantrums are a completely normal part of child development. It's how our little ones express themselves over anything from discomfort to simply not getting what they want. But that doesn't mean it's not exhausting, frustrating and down right chaotic to try and diffuse them. Sometimes the response that our children need the most is the hardest to offer in the moment. In my experience, the most effective method for disarming a tantrum is a calming, positive approach. Here are 5 Simple Tips for Taming Tantrums that may help to deescalate meltdowns and preserve your sanity.
1.) Remain Calm
It is entirely true that children feed off of our emotions. If we treat a child's tantrum with fierce anger and frustration it is possible to intensify the tantrum rather than mitigate it. Try to remove all emotion and focus on yourself, especially the guilt or embarrassment which can heighten feelings of overwhelm (remember, every parent has been there!) Your child isn't trying to give you a tough time, they're having a tough time.
2.) Use Positive Language Alternatives
Avoid the use of "no" if at all possible and try these positive language alternatives.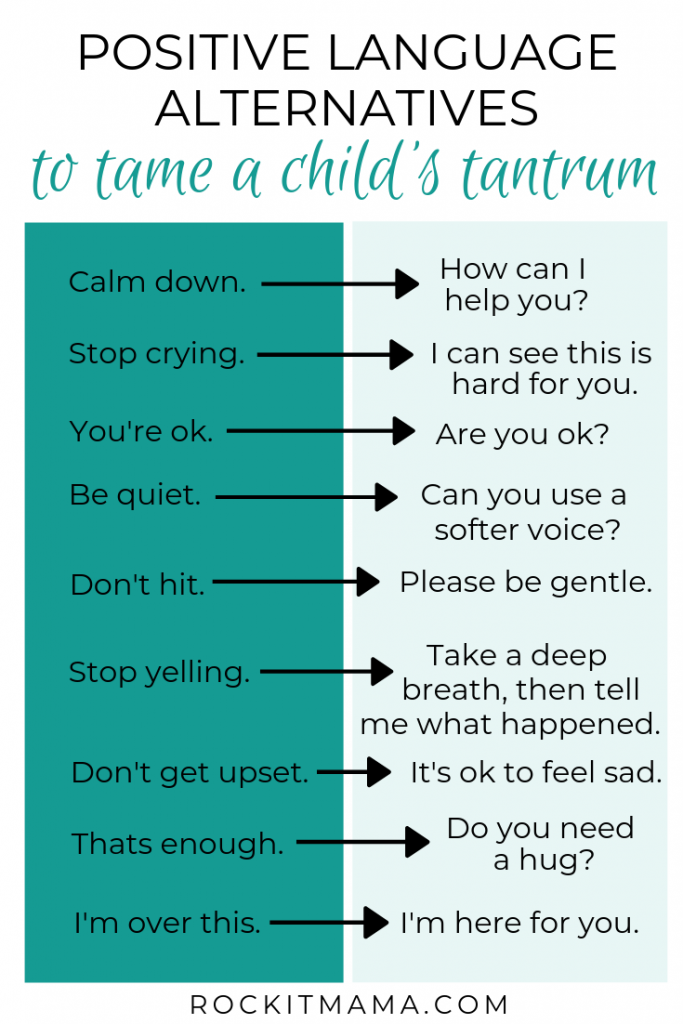 3.) Try a Calming Diversion
Does your child have a favorite book or comforting blanket? Offering these items could help console a child during a tantrum. Other tools could be a calming jar (such as these), relaxation activities such as deep breaths or yoga poses, essential oils, and songs. When the meltdown occurs in a public place without access to these tools, try removing them from the environment in which the situation began. If your child runs, throws or hits during a meltdown assess surroundings to ensure safety before approaching.
Hugging is an excellent use of diversion, but always ask if they need a hug beforehand. Studies have shown that proprioceptive input through hugging is extremely helpful for regulating the senses and helping tame a tantrum. Something as simple as a tight squeeze can provide a sense of calm & return your child to the moment.
4.) Observing and Learning
Is there a pattern or trend for where these tantrums occur? Say, in the toy section at Target or when deciding on what to wear in the morning? Research indicates that events leading up to a tantrum can be critical to whether or not it actually occurs. Noticing where and when your child is likely to have a tantrum is essential in diffusing or avoiding it altogether. Maybe bypass the toys next time at the store, or offer options on outfits in the morning so your child feels in control. Another thing to keep in mind is choosing battles wisely. Ask yourself this question:
Will this decision impact my child down the road?
Examples: Something like, wearing a helmet on the tricycle could potentially have long term effects and is probably a battle to be fought. Forcing a child to hug a relative before they leave (and thus inducing an incident) is likely not life altering. Maybe have a conversation later about hugging and why we show affection instead of ensnaring yourself in an emotionally escalated situation.
5.) Consistency and Not Caving
A sure-fire way to keep the tantrums coming is to cave or give in to the tantrum. For example, if a child melts down in the candy aisle begging for a lollipop, giving her the lollipop will underline the negative behavior and reinforce it for next time. If the child is denied the lollipop repeatedly, it's possible for them to learn that a tantrum in this particular instance will not get them what they want. Be consistent and confident with your choices as you know best for the child, not vice versa.
---